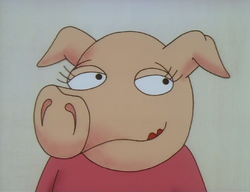 Sweet was a teenage pig who lived in Canton. (Sweet and Sour)
Sweet is an outgoing pig with a curly tail and got so many good opportunities which made her friend Sour very jealous.
Sweet noticed Sour's feelings and began to help her by asking the handsome trombonist to dance with Sour. Soon the handsome trombonist payed attention to Sweet which infuriated Sour that she wanted give vengeance to her.
After that they became friends again.